S Series
Split Systems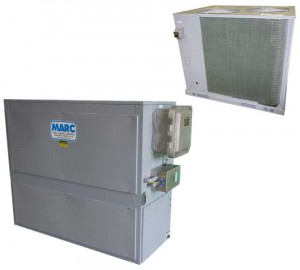 Split type air conditioning and heating systems, custom-built for use in industrial and/or hazardous applications
INCLUDES:
CLS series condenser units
AAU series evaporator units
STANDARD FEATURES:
*Certified by CSA (bearing the CSA mark) for compliance to applicable codes and standards
Spark resistant fan and blower construction
Minimal building wall cut-out requirement
EPA approved, HFC type refrigerants
Air handler duct connections matching major AC manufacturers
Condensing unit foot-prints matching major AC manufacturers
Mechanical thermostat shipped loose for wall installation
OPTIONS:
Total nominal cooling from 1.5 to 20 tons
Steam heating coil with connections
Electric heat (limited by temperature code and system size)
Single or three phase operation in 60 or 50 Hz applications
Configurable for operation in various non-hazardous and hazardous rated locations
Type 316 stainless steel cabinet and chassis for corrosion protection
Corrosion resistant coatings for refrigerant coils and tubing (proven to withstand 10,000 hours of salt spray test)
Protective component coatings for prolonged life in corrosive environments
Totally Enclosed Fan-Cooled (TEFC) motors
Electrical disconnects
Digital thermostat (shipped loose) for general purpose applications
Low/High ambient packages available for operation in extreme environments
APPLICATIONS:
Split hazard locations
E.g.: Class I, Division 2 indoor; non-hazardous outdoor
Blast/fire rated buildings
Control rooms/cabins, living quarters, plant office buildings, and other manned applications
MCC, RIE, DCS, power, and switchgear buildings
*Certification may not apply to all configurations. Please contact our technical sales department for more information.